Cleaning up after demolition is stressful and overwhelming, overall it's a huge task to carry out. Demolition clean-up ensures that any debris left over after a building has been demolished is cleaned up professionally. After bringing a building down, the debris, grime, and dust carry allergens and by-products that need to be removed from the property ethically and responsibly. The clean-up is the most important part of any demolition project as it can affect the use of the site after demolition has taken place. Successful demolition waste relies on the equipment used in the process. Before searching for a demolition contractor in Perth, read below as our demolition construction Perth experts will ensure that the right tools are used as the job must be done in the shortest time possible. For the demolition clean-up service you need, give us a call today at 0411 747 174.

Dream Lucky Scrap Metal services:
Construction demolition
Residential demolition Perth
House demolition salvage
Commercial and industrial demolition
Farming machinery and demolition
Demolition Perth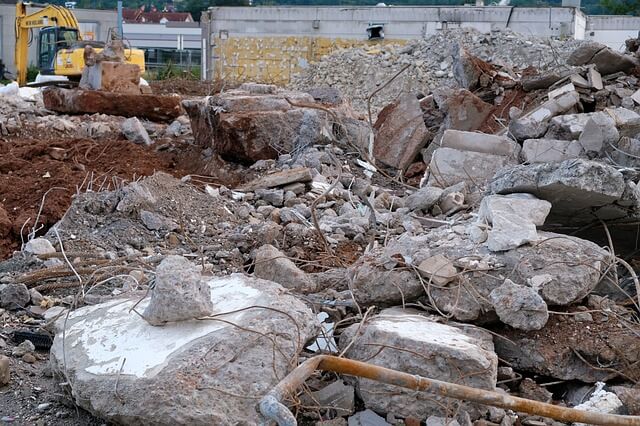 The demolition process
Planning a demolition is both daunting and exciting. It's quite fun to smash down a building and it's not something that people get to do often. Demolition requires forethought and careful preparation, to ensure that things go smoothly and are done within the realms of the law. The first thing that needs to be done is to ensure that you have the right permits from the relevant council. As we are all aware, dealing with a council and filling out the pages of endless paperwork can be confusing, which is why we handle all the relevant paperwork for you. Having the correct paperwork, correctly filled out can speed up the application process which saves you endless waiting and frustration.
Secondly, you will need to know if there is any asbestos in your property if you aren't already aware. It can be found all over a building, if asbestos is disturbed, it releases fibres that are dangerous to inhale. Our demolition clean-up services will ensure that asbestos is removed safely using our scrap metal hook bins.
Next, you may want to inform your neighbours so that they know what to expect. Communication can go a long way and keep relations positive and having the patience of your neighbours will only make the demolition process easier.
Services such as electricity, water, and gas need to be disconnected as they can pose a dangerous health risk if they are still active when the demolition of Perth takes place.
Next, we will ensure that the area is safe for others. Reputable demolition companies in Perth WA will ensure safety by making sure that adjacent buildings and walkways are protected.
The demolition can now begin. Having demolished some iconic structures in Perth, our reputation for excellent work and customer service is what sets us apart from other demolition companies in Perth WA.
Cost to demolish a house
Demolition clean-up cost is determined by many factors such as site access, size of the property, if asbestos removal is required, are demolition permits required, etc. Our no-fuss approach ensures that our fees are transparent, and that we have no hidden costs. Don't search for demolition companies near me, contact us for a free, no-obligation quote. We will beat any written quote.
What sets us apart from other demolition companies in Perth WA?
We are proud of our high demolition contractor in Perth's standards of work and our no-nonsense approach. We will offer you peace of mind by ensuring a stress-free process by completing the job with expert precision and a focus on safety. Our long list of satisfied clients can agree that we have left the work site clean and tidy by removing every piece of rubbish.
And yes, we are green! We have our recycling stations throughout Perth where we recycle the building's waste. About 90 % of bricks of tiles which is turned into building products to be used once again. Our streamlined process from start to finish is what gained our positive reputation.
Dream lucky is a team you can count on for demolition waste and construction waste. We look forward to working with you.
How to get in touch with our demolition clean-up services?
Visit us: 147 Beechboro Rd South. Bayswater. WA. 6053
Call us: 0411 747 174