Scrap metal recycling is a big business in Perth with scrap metal prices incredibly favorable and a quick way to earn extra cash from doing relatively little.
Any junk metal object you have lying around you no longer want or need including old BBQs, kitchen appliances, car parts, copper piping, electronics, and so on could be making you some money.
You will be surprised at the amount of potentially valuable items lying around in your garden, home or garage that you would probably end up throwing out during your annual clean up, or leave it on your verge for someone else to profit from.

Who Should You Sell To?
Have you got scrap steel rusting away on your property? We offer prompt as well as efficient solutions at the best price. We gather scrap steel, including steel, copper, aluminium, lead and more. We are a fully licensed procedure that is devoted to being environmentally friendly and accountable whilst additionally making certain that our clients receive a sufficient experience.
When it comes to getting rid of your junk for a profit, you want to choose an established, reputable, and knowledgeable company that specializes specifically in scrap metal pick up like us, Dream Lucky. We can save you from disposing of the metal and give you a great value price per kilo.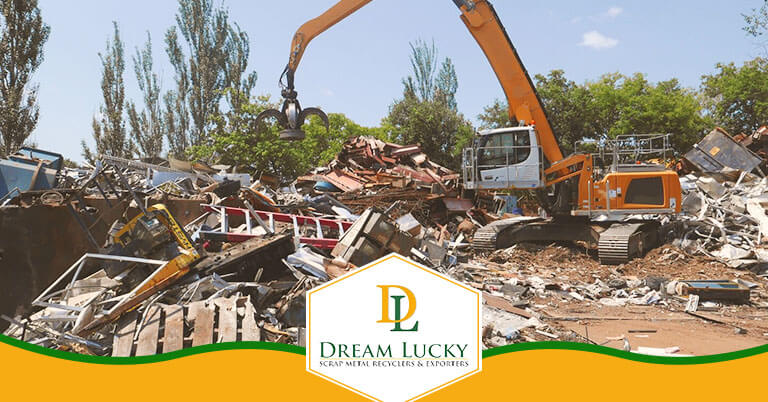 Best Price for Scrap Metal Perth
Scrap metal prices throughout the last 5 years have increased year on year and how much you can get will depend on the grade of metal. So high-grade metals such as copper, aluminium, brass, stainless steel, iron, lead, gold, and silver, the higher the price you will get from selling.
In addition, copper scrap will be different in price to iron, and prices can differ based on location and even be dependent on demand. So if local manufacturers require a specific type of metal then the industry will see prices for that metal increase.
To help you understand a bit more about what you can get from recycling scrap metal Perth, below is a quick reference guide of the different grade types of scrap metal prices.
Metal Grades
Grade 1 – Grade 1 metals only have a single alloy type (in other words, pure) must have specific dimensions and should not be corroded.
Grade 2 – These metals can include other alloys (but not non-alloys) and again should not be corroded
Others- Sheets and casting metals could be worth more than grades 1 and 2 so you should definitely look to sell this to a trustworthy scrap metal dealers instead of disposing of them.
How Much Scrap Metal Prices?
Note: Conditions apply. Our scrap metal price list is a guide only and not a guarantee. They may be subject to change at any time without notice.
How to Get a Quote
Take pictures of your item at all necessary angles and attach the images in an email with a detailed description of the condition, the type of metal, the quantity, and an estimate of the weight.
Let our team know where the items are located so they can arrange scrap metal dealers.
If you have any junk metal objects to sell and uncover more about the cost we pay, contact our friendly team at Perth's number one scrap metal dealers: Dream Lucky.